Call Us Anytime
+91 9881201966 020 2614 1134

Email Us
info@devsoralcare.com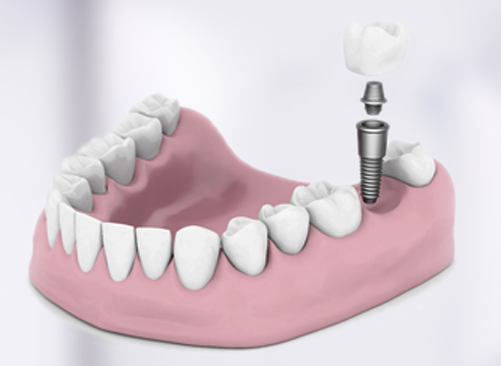 Missing single tooth often presents aesthetic issues along with serious functional lapses in chewing, biting and speaking. Fortunately with the aid of impeccable treatment facilities at Dev's oral care, it is absolutely possible to treat a missing single tooth. Although there are other options such as fixed bridges and removable partial dentures, as an effort to provide the best treatment for tooth replacement for our patients, we recommend dental implant procedures subject to their suitability.
Why the tooth should be replaced?
Each and every time before carrying out procedures for tooth replacement in Pune at our clinic, we make sure to educate the necessity of treatment.
When a tooth is lost due to a trauma or had to be extracted on account of irreparable damage, the adjacent set of teeth starts drifting its position and thereby changes the bite. Over a period of time, this can lead to tooth decay and develop further complications such as periodontal diseases.
In the event of a missing tooth, the bone in the missing space stops getting the necessary stimulation through the tooth roots and thereby begins to get deteriorated.
Our dentists, renowned for a dental implant in Pune, would always ascertain the suitability of candidature for any surgical procedure. As it is not a readymade option for everyone, qualifying parameters as listed below are strictly evaluated by our Implantologist in Pune before arriving at the best solution for single tooth replacement.
Good oral health
Adequate bone to provide support for the implant (If not bone grafting is performed by our surgeons)
Commitment in routine oral care habits and clinic visits
Diagnostic tests such as x-rays
These dental implants are done a short while after the teeth are extracted. If immediate implants are being done, crowns, bridges or dentures are not placed immediately after the tooth extraction, but later. They are done only if the jaw bone condition is good and robust.
Advantages of dental implants
It has always been our strong belief to provide the best of treatment to our patients. Hence we would like to outline few salient advantages that come packed with dental implants.
Dental implant procedures provide lifelong solution for the missing single tooth.
It nourishes the underlying bones and there by prevents theirs deterioration.
As they are permanent, patients need not fear about tooth falling or slipping away during yawning, eating, laughing, or biting.
Dental implants provide the best functionality and aesthetic appearance and it is next only to the natural ones.
Nearby teeth does not get damaged or displaced.
We at Dev's oral care are committed towards providing a comprehensive perfect treatment right from the planning stage to the final restoration. Contact us and get the best of dental treatment for your missing tooth.