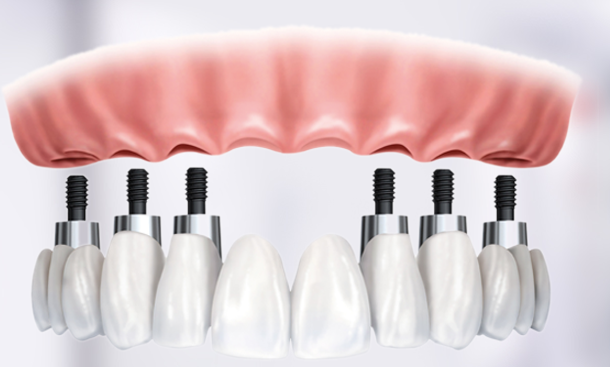 If several teeth are missing, implant-supported bridges can replace them. A multiple tooth-supported fixed bridge is a conventional tooth replacement option and has all the complications, compromises, and risks of a single tooth bridge, only to a much greater degree. Problems of decay, root canal infections, periodontal bone loss and bone atrophy can be worse simply because there are more teeth involved. Unfortunately, larger bridges fail faster than single tooth bridges.
Hence, we at Dev's Oral Care, the renowned medical center for dental implants in Pune, suggest our patients opt for an implant-supported bridge, as it is far superior to removable partials or multiple tooth supported fixed bridges:
Dental implants virtually stop the bone resorption process (deterioration)
Implants are much more comfortable and stable than partial dentures
The integrity of the facial structure is maintained (no sagging jaw line)
The gum line stays intact – not eaten away by metal clasps
Natural biting and chewing capacity is restored
Adjacent natural teeth are preserved
You can eat what you want, when you want, where you want – steak, corn on the cob, apples, crunchy snacks, sticky snacks
Dental implants look, act, and feel just like natural teeth
Dental implants are permanent – no need to deal with messy adhesives or cleaning solutions
Since 2007, several patients with multiple missing teeth have been successfully treated at Dev's oral care, the renowned dental implant clinic in MG-Road Pune.