All-On Four /All-On-Six Implants
All-on Four/ All-on-six Implants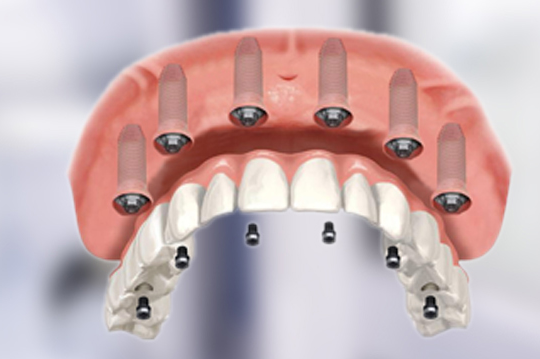 For patients with all their teeth missing, (complete edentulism), adept dentists at our dental clinic in Pune offer a very popular and advanced solution in the firm of the popular – All on 4 implant prosthesis.
All-on-4 dental implants offer the following benefits:
Immediate results
Dramatic improvement in chewing ability, teeth stability, and overall comfort right away.
Improves appearance
The All-on-4 procedure helps preserve the jawbone, preventing deterioration of the facial structure associated with missing teeth and the root system that supports them. With dental implants, the caved in face and wrinkles around the lips caused by that deterioration are virtually eliminated.
Better function
Improves overall eating habits with the All-on-4 procedure. One can enjoy food again, and not be embarrassed because of ill fitting dentures.
Long-lasting smile
The All-on-4 dental implant procedure creates a permanent set of teeth with a fixed, non-removable implant-supported retained bridge. They never have to be removed. The teeth can last a lifetime.
Enhance Overall Quality Of Life
With All-on-4 dental implants, new teeth will feel and function just like real teeth. There is greater comfort and confidence when smiling, speaking, and eating. There is renewed quality of life! The All-on-4 dental implant solution has been developed to simplify treatment for those suffering from tooth loss, periodontal disease, and/or bone atrophy (melting away of the natural jaw bone). All which can quickly lead to poor oral and overall health, including self-esteem and quality of life issues. With the All-on-4 solution, oral health and overall well being is enhanced. It's an efficient solution that saves time, both procedural and healing, as well as costs.
Conventional implant therapy often requires:
Multiple visits to both surgical and general dental offices
Six to eight, or even more implants per arch
Bone grafting and sinus augmentation
Months and possibly years of extended healing time
The All-on-4 dental implant solution is superior to conventional implant methods:
Reduces or eliminates bone resorption (bone atrophy)
Has a lower overall cost than conventional implant procedures
Significantly reduces healing time
Has proven predictability with highly successful outcomes
Allows for brand new replacement teeth in as little as one day
Is permanent and will have patients smiling for a lifetime
If you would like to ascertain your candidature for All-on-4 dental implant in Pune, make it convenient to schedule an appointment at Dev's Oral Care and discuss with our dentist to facilitate an informed decision.