Implant Supported
Fixed Prosthesis
in Pune
Implant Supported Fixed Prosthesis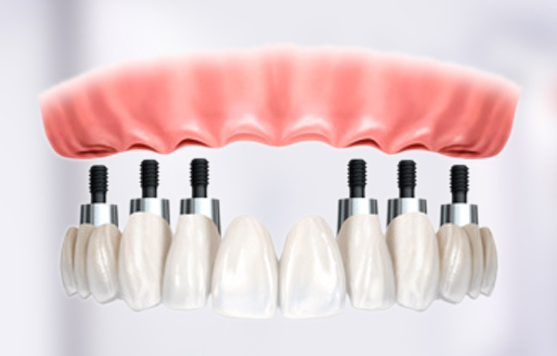 An Implant supported fixed partial denture is nothing but a bridge , except that implants hold it up instead of teeth.
We at the clinic offer various treatment options for an implant-supported prosthesis.
Depending on the case, it can be possible to offer a conventional bridge held by the implants.
A more popular option is a fixed-detachable denture or hybrid wherein, as far as the patient is concerned, it is fixed but can also be detached by the dentist by unscrewing the prosthesis from the implants. Its construction is just like removable partial dentures. It has a cast metal framework, acrylic base, and denture teeth. in some situations where the patient needs both hard and soft tissue replacement, wants a fixed prosthesis that he/she does not have to worry about taking in and out, and has enough implants to support a fixed restoration. such a prosthesis is done with at least four well-spaced implants in the lower jaw and six in the upper jaw.
Another option that we offer at the clinic is an implant overdenture. It is a removable denture that goes over the top of implants. It is still tissue supported (just like a regular denture)but gets retention help from the implants by using abutments such as ball and sockets, bars and clips, Locators, O-rings, etc… This is a good way to go if the patient is OK with having a removable prosthesis. An implant overdenture is very easy to clean and is more hygienic as compared to a fixed prosthesis. It also requires fewer implants and is less expensive.
Hence, we at Dev's Oral Care, the renowned medical centre for dental implants in Pune, suggest our patients to opt for an implant-supported bridge, as it is far superior to removable partials or multiple tooth supported fixed bridges:
Dental implants virtually stop the bone resorption process (deterioration)
Implants are much more comfortable and stable than partial dentures
The integrity of the facial structure is maintained (no sagging jaw line)
The gum line stays intact – not eaten away by metal clasps
Natural biting and chewing capacity is restored
Adjacent natural teeth are preserved
You can eat what you want, when you want, where you want – steak, corn on the cob, apples, crunchy snacks, sticky snacks
Dental implants look, act, and feel just like natural teeth
Dental implants are permanent – no need to deal with messy adhesives or cleaning solutions
Since 2007, several patients with multiple missing teeth have been successfully treated at Dev's oral care, the renowned dental implant clinic in MG-Road Pune.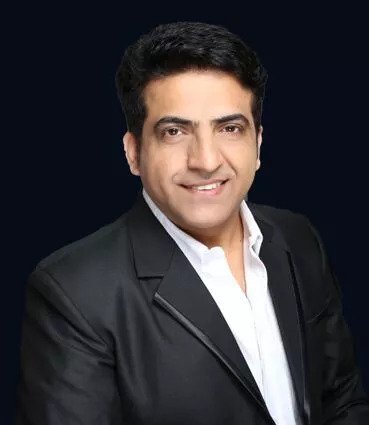 Dr. Kamal Kiswani
General Dentist & Implantologist
BDS MSc: Oral Implantology (Germany), Fellow ICOI, Board certified Diplomate ICOI (USA )
Dr. Kamal Kiswani is a well-known name in the dentistry domain and the best dentist in Pune. He is a BDS Msc in Oral Implantology from Germany and has a Fellow ICOI (Board Certified Diplomate, USA). Since 2001, he has focused particularly on implant and restorative dentistry in his general dental practice. His area of expertise is implantology and cosmetic dentistry.
His specialities are Dental Implants, 3D Guided Implant Surgery, Digital Smile Design, Porcelain Veneers, Cosmetic Dentistry, Dental Bridges and Crowns, All-on-6 Implants, All-on-4 Implants, Aesthetic Gum Correction, Wisdom Tooth Extraction, Dental Restorations, Digital Dentistry, Geriatric Dentistry, and Complete Dentures.
He does basic and complicated implantology treatments, such as bone augmentation, ridge splitting, and even sinus augmentation. He has rich 16 years of experience making him an eminent implantologist in Pune.