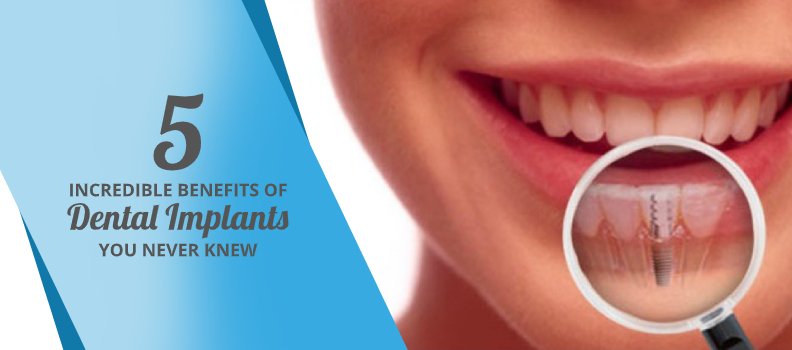 The latest advancements in dental technology can dramatically enhance one's smile and oral health. All you need to know is which treatment can best cater to your smile preferences. One of the most brilliant advancements is dental implants.
Missing teeth or a crooked smile can severely impact your confidence while talking, laughing, and also is the source of many dental conditions such as gum disease and bad breath. Dental implants replace the missing teeth and offer a natural-looking smile, which uplifts the patient's overall aesthetic appearance.
Before considering the procedure of dental implants in Pune, let us know the benefits of the dental implant procedure and how it fortifies your natural teeth.
1. Reinforcing stability
Missing teeth can unstabilize the jawbone and affect the roots of the neighbouring tooth. If not replaced, the missing teeth can weaken the jaw. A dental implant is implanted in your jawbone to halt the movement of teeth. It reinforces the bone and acts as an anchor to support the teeth and keep it stable.
2. A Permanent Solution
One reason why dental implants stand out to be the most-effective dental treatment is, it offers a natural-looking smile and is a permanent solution. As long as you take good care of your teeth, it's there for the rest of your life.
3. Improves Your Oral Health
Missing teeth can severely impact the entire oral health. Loss of teeth can cause bone loss, gums recede over time, and the remaining teeth crowd at one place to fill the gap. Getting a dental implant fills in the gap and restores balance in the mouth.
4. A Fuller Smile
Who doesn't love the idea of getting rid of ageing symptoms? Dental implants offer a fuller smile, lips, and cheeks by working closely with restoring the jawbones, which ultimately uplifts the saggy and sunken facial skin.
5. Improved Speech
Dental implants correct any speech or lip impediments caused due to tooth loss. The fuller smile not just gives you the confidence to communicate but also improves your speech which surely improvises your quality of life.
If you have heard about dental implants and looking for the best dentist in Pune to perform the procedure, we invite you to Dev's Oral Care. We educate the patients with entire procedures, benefits, risks, and after-care precautions to ensure a safer and faster healing process. Book your appointment today and reclaim a healthy smile for a long time.