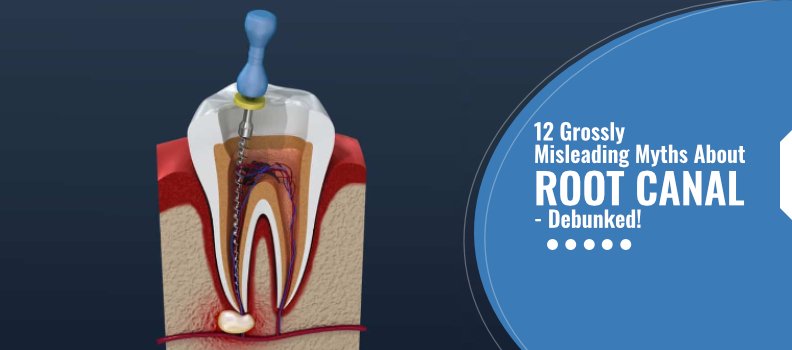 Be it an assumption or a phobia, when baseless information travels through enough ears, it only takes that much time for it to become a baseless common belief. This baseless belief is a myth which potentially damages the integrity and trustworthiness of the subject it takes on. The modern medical treatments have been a major target of such myths which are spread due to lack of awareness and availability of information to debunk them.
Here, we're focusing on one of the most advanced dentistry treatments which have advanced to a point where its benefits are almost unbelievable, which is the modern endodontic treatment, or as commonly known, the root canal treatment.
For ages, people have perceived root canal treatment as a complex and major medical procedure which involves a lot of needles, drilling, suction and blood loss. And what one imagines after being subjected to such baseless information is always more exaggerated and scarier than the truth. Which is why it becomes more important to inform patients about exactly what will be happening during and after the treatment to dispel their negative thoughts.
A root canal is a common treatment which benefits thousands of patients in India every day and we believe a few pointless misleading myths shouldn't keep you from availing them. So here are most of the commonly believed myths about the root canal and the research-based truth behind them.
Myth:
Root canals cause severe and long-lasting pain.
Fact:
Use of anaesthetics has evolved greatly and you'll benefit the most from it during your root canal treatment today.
The abscess and infection in the root canal that causes severe pain are promptly subdued with modern root canal treatment.
These misconception roots back a century when anaesthesia wasn't used for dental treatments which aren't the case today. So fear not, all you'll feel is minuscule pain which subdue in the next few days of the treatment.
Myth:
Root canal treatments are the most expensive.
Fact:
The cost of your root canal treatment depends on the complexity and severity of work that the dentist has to perform on your problem. Also, the treatment fee varies greatly amongst dentists based on their experience and tools.
So it boils down to your personal choice where you'd like to get treated and although it might not be cheap, thinking that it will be crazy expensive is an exaggerated misconception.
Myth:
Root canal treatment may lead to cancer.
Fact:
This is another unproven false theory spreading over the internet.
Modern root canal treatments sterilize and remove all bacteria and other dead tissue altogether from the infected tooth and seal it away. It is a clinically proven fact that root canal treatments do not lead to or increase any chances of cancerous development at all.
Myth:
Root canal treatments fail more often.
Fact:
Again, it is another age-old fact which was baselessly carried forward.
The rate of successful root canals which last for a lifetime is more than 85% today, hence, the chances that you might need any repair like changing the crown or filling after your root canal are extremely rare and often a cause of some external factor.
And even in the rarest case of postoperative tooth decay and infectious development, there is a myriad of tooth replacement options to maintain the healthy structure of your jaw.
Myth:
Root canals cause prolonged (or even lifetime) tooth sensitivity.
Fact:
Root canals only cause some swelling and bearable pain immediately after the treatment which will subdue by the next week itself. Apart from which there is no sensitivity or pain caused by this treatment.
However, if you do feel pain after a few days, it might be due to some other reason like a second concealed root canal or a hidden problem that your dentist can easily help you with.
This happens rarely and should not cause any panic as simply revisiting your dentist will solve the problem.
Myth:
All root canals kill the natural nerves in the teeth.
Fact:
Here's a pre-fact that you need to know before debunking this myth: the pulp that contains the nerves in the tooth does not perform any function after the teeth have developed fully. Hence, the root canal is only performed in adults and not in youngsters.
As the teeth fully grow, the nerves do not perform any vital function other than sensing pain. Hence, as they get infected within the tooth, they are required to be removed to prevent the tooth from any damage.
So, it may be true that the nerves are removed in adults, but portraying it as a harmful move is a false myth.
Myth:
You're prescribed with powerful painkillers after root canals.
Fact:
No powerful painkillers are prescribed in almost any cases. The most you might be suggested would be over-the-counter pain medications which are commonly used anyways.
However, you shan't opt for any medications without consulting your dentist and it is also important to discuss your ongoing medication course for other treatments.
Myth:
The crowns and fillings make your teeth ugly and cause problems.
Fact:
The crowns and fillings used today are customised to match the shade of your teeth to such accuracy that even you won't notice them in the mirror.
However, your dentist may not perform the crown implant procedure in the same seating as it takes some time but once installed, the dental crowns and fillings stay for a lifetime in most cases.
Myth:
A root canal treatment takes multiple days to complete.
Fact:
Traditional root canal treatments in the old age did take multiple sessions to complete but that is not the case today.
Root canal treatments take a couple of hours at the most and can be completed in a single session. However, when the infection is extremely severe, your dentist will temporarily enclose the canal with antibiotic material and call you the next day for the fixation procedure of crowns and fillings. You'll know what is best for you once you discuss your problem with your dentist.
Myth:
If root canals fail, tooth extraction is the only option.
Fact:
Modern dentists work to a great extent to preserve the natural teeth and direct tooth extraction will never be the first option presented to you.
In the rare case of root canal failure in several years down the line, the first thing your dentist will do will clean the infectious fluids formed with a second root canal treatment.
If necessary, the tip of the root may be removed to prevent infection in teeth but tooth extraction will also be a last resort.
Myth:
Getting tooth infections after root canal treatment is only common.
Fact:
Your dentist puts maximum efforts in filling and covering your root canal to prevent any further infections which is why the chances of recurring infections are extremely low today.
Like any other treatment, a 100% guarantee of infection-free teeth is a myth as well. Researchers are trying to develop much more advanced techniques to fortify root canals to improve their immunity to infections.
Myth:
Root canals can lead to other physical problems in the future.
Fact:
This myth cannot be more false and there is no scientific evidence which links root canal treatments to development of other physical disorders in the body.
Bacterias indeed develop in the emptied teeth but they don't harm any other parts even after entering the body through the mouth. All healthy teeth have bacterias which are an essential part of the oral system.
If you still are in a dilemma of whether you should opt for this treatment or not, just talk to your dentist who can honestly solve all of your doubts.
And if you ever wish to find a new dentist in Pune who can clear such misleading myths from your clouded mind, then feel free to visit Dev's Oral Care anytime you wish for a friendly consultation. You can also have the most effective root canal treatment here at a surprisingly affordable cost. Apart from which, they also provide other advanced medical treatments which you can read about on the Dev's Oral Care website.